Gyoza
Gyoza / Jiaozi / Pot stickers
Gyoza, the Japanese version of what is commonly referred to as "pot stickers" here in the US and called "jiaozi" in Chinese, is another delicious way to incorporate our WPRO30+ into your diet. WPRO30+ is a high EPA content powder made up of dried and milled Nannochloropsis algae. As was the case for the green udon noodles, WPRO is very easy to incorporate into the flour mixture. And, as was the case with the noodles, the level of umami flavor will produce a very tasty result!
First, you mix flour, WPRO30+ and some water. No salt is needed since you will get the flavor punch from the WPRO30+. You work the mix by kneading so that the gluten develops.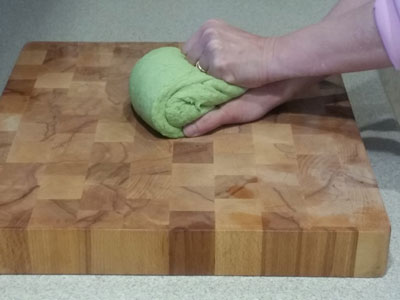 Once the dough is ready you can roll it out into finger-thick logs which you then cut into 2" pieces. Each of those pieces is rolled into a ball and then rolled out flat and round (about 4-5 inches in diameter) with a rolling pin or similar.
Once you have the dough rounds you can add your stuffing: if you prefer vegan, you will not miss the meat; you will get a lot of umami from the algae!
The photos, below, show some of the different presentations we tried; they are all delicious!
Boiled for just a couple of minutes and served with your choice of dipping sauces: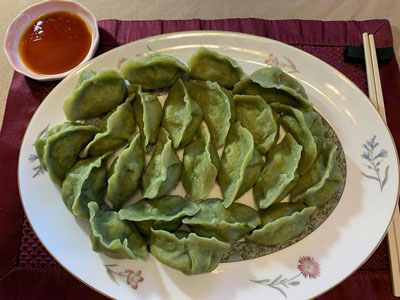 Incorporated into broth for a very tasty soup: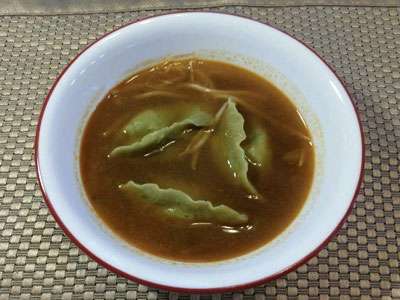 Or, how about fried? In this case accompanied by deep fried dumplings. So good!